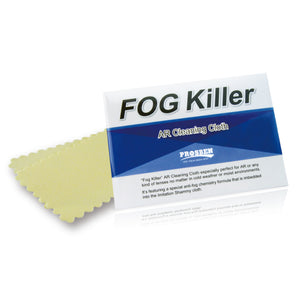 Malaya Optical
Anti Fog Killer Cloth
Regular price
RM69.90
RM0.00
Features
The anti-fog chemistry formula that is imbedded into the Imitation Shammy cloth, which Fog-Free formulated specifically for all optical lenses especially perfect for AR lenses no matter in cold weather, moist environments or athletic activities.
Description
●Wash the lenses clean before application to  prevent free of scratches.
●Follow with Fog-Killer cleaning cloth rub both sides of lens for about 5-10 cycles until clean.
●Each cloth can be used about 60 applications (depends on the size of the lenses)  
●Generally, will keep stays fog free for 72 hours if humidity around 60, minimum not less than 24 hours
●Please make sure the cloth is wiping on the clean lenses. Suggest using our pre-moisten Tissue to clean the lenses before application.
●This cloth is non-washable.
---
Share this Product
---